---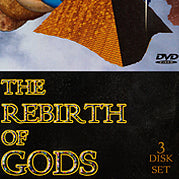 Dr. Paul Goss has touched the lives of thousands of patients, students and practitioners of natural remedies around the world. 
He is widely regarded as one of the world's leading authorities on natural healing. 
This DVD will help you rediscover your God self and the unlimited powers that flow from the depths of your being. The word God like the word man is not interpreted; it does not indicate male or female. It has no origin and no end. You will once again be able to create your past or destiny from any source you choose without any negative forces against you. 
You will enjoy the peace of mind knowing you have natural alternatives that can give you energy, help you lose weight, increase your sex drive, cleanse you body of toxins, build your immunity, lower your blood pressure, lower risk of heart disease, balance sugar levels and so much more. 
This DVD is a recording of a 3 part seminar series based on Dr. Paul Goss's book "The Rebirth of Gods", giving you 6 hours of vital information for you spiritual, mental, and physical well-being.