---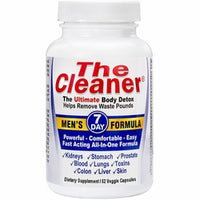 Sale
Product Description
Century Systems The Cleaner - Men's 7 Day
Dietary Supplement.
The Ultimate Body Detox.
Powerful, Comfortable, Easy.
Fast Acting All-in-One Formula.
The Cleaner® is fast and powerful yet gentle enough to allow you to travel, work and continue your normal routine. The Cleaner® uses vegetable capsules instead of gelatin for those who desire an animal free detox.
Supplement Facts
Serving Size: 4 Capsules
Amount per Serving %DV
Zinc (as zinc citrate) 7.5 mg 50
PROPRIETARY CLEANER BLEND 1,750 mg
Fibersol-2 soluble maltodextrin fiber, Ginger root, Senna leaf extract (10% sennosides), Aloe Vera gel (from 200:1 concentrate), Bentonite, Yellow dock root, Dandelion root 4:1 extract, Clove (dried buds), Black walnut bark, Milk thistle seed extract (80% silymarin), Saw palmetto berry, Triphala extract [contains amla fruit (Emblica officinalis), bibhitaki fruit (Terminalia belerica), haritaki (Terminalia chebula)], Elecampane root, Schizandra berry extract (9% schizandrins), Cat's claw bark, Asian ginseng root extract (5% ginsenosides), Calcium citrate, FOS probiotic growth complex (fructo-oligosaccharides), Magnesium citrate, Sarsaparilla root, Blessed thistle (leaves and flowering tops), Red clover 4:1 extract (aerial parts), Plantain leaf, Peppermint leaf, Wormwood (flower), Soy fiber, Oat bran, Apple pectin, Acacia gum, Psyllium husk, Goldenseal root extract (5% alkaloids), Corn silk (stylus).
Other ingredients: Microcrystalline cellulose, magnesium stearate and silica.
Contains SOY and may contain WHEAT.
Directions:
Take 4 capsules on the evening of day 1, then take 4 capsules in the morning and 4 in the evening on days 2 through 7. Drink at least 8 to 10 glasses of water per day. After 3 days, if you are not having a bowel movement daily, increase 2 caps per dose. Take as many as needed to achieve regular bowel movements daily up to a max of 8 caps per dose. Can be used continuously for up to 14 days then a 30 day break before restart.
Notice: Actual results may vary among users. You should always consult with your physician before starting this product or any health-related program. The product information may differ due to packaging update or re-formulations. You should read carefully all product packaging.
Disclaimer: The product descriptions and the statements on this page are from manufacturers and/or distributors and have not been evaluated by AmeriLifeVitamin.com or the FDA. These products are not intended to diagnose, treat, cure, or prevent any disease.