---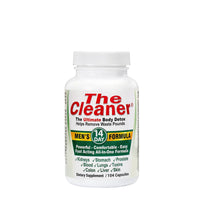 Sale
The Cleaner is a powerful total internal cleansing support system. It includes organ and parasite cleansing in easy to swallow capsules. After use of The Cleaner, clothes may fit loosely in the stomach are due to the elimination of waste.
Contains two 7-days Detoxes. The Cleaner is fast and powerful yet gentle enough to allow you to travel, work and continue your normal routine. The Cleaner uses vegetables capsules instead of gelatin for those who desire an animal free detox.
Directions
Take 4 capsules (average dose) on the evening of day 1, then take 4 capsules in the morning and 4 in the evening on days 2 through 7. Drink 8 to 10 glasses of water per day. If stools become watery, stop taking until stool solidifies and restart with 1-2 capsules. If not having at least one bowel movement per day, take up to 8 capsules per dose until regular.
Warning Read and follow directions carefully. Do not use if you have or or develop diarrhea, loose stools, or abdominal pain because Senna may worsen this conditions and be harmful to your health. Consult your physician if you are taking medications or have a medical condition. Not for children under 12. If you have allergic reaction to any of the herbs, stop use immediately and seek medical attention. If you have or develop diarrhea, loose stools, or abdominal pain with 1-2 capsules, stop use. Do not use for more than 7 consecutive days unless directed by a doctor. These statements have not been evaluated by the Food and Drug Administration. This product is not intended to treat, cure or prevent any disease
Nutrition Facts
Serving Size  4 Capsule(s)
Servings Per Container  26

---

Amount Per Serving
 
 
% DV

---

Zinc (as Zinc Citrate)
7.5 mg
 
50%

---

Proprietary Blend (See label for Ingredients) 
1750 mg
 
**

---

** Daily Value (DV) not established.
Other Ingredients

Microcrystalline Cellulose, Magnesium Stearate, Silica Contains soy and may contain wheat.